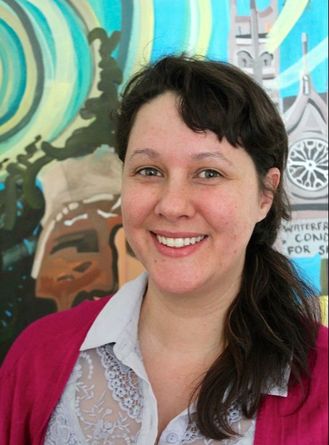 ​Artists Statement:
"I am a painter--It is difficult for me to define my work precisely, however I would say that it is inspired both by my Anishinabe (Ojibway) heritage and by my Euro-Canadian ancestry; many colleagues have told me that they think of my work as being very 'Canadian'. I consider this to be a complement, as I am inspired by the Woodland style of painting and by the work of Emily Carr, Daphne Odjig, Nathalie Parenteau, Ted Harrison and many more. Seeking to express my own unique style, my painting is an attempt to capture the ineffable quality of spirit (manitou) which can be perceived in all things. A spiritual connection to the land drives my work. My goal is to convey what I consider to be the transcendant aspects of 'ordinary' experience through colour and form in order to inspire others". She is currently working on a body of work that is inspired by the richness found in her ancestry. Specifically, Jessie is interested in creating work that celebrates and combines Indigenous tradition(s) and her lived experience as a status recognized First Nations woman in a modern world. Jessie is fortunate to have found a traditional Anishnaabe elder to guide her spiritual journey and who has helped her embrace her indigenous ancestry. Jessie graduated with a Bachelor of Fine Arts (Hons.) degree from Algoma University in 2010. Jessie is a member of the Aamjiwnaang First Nation and lives in Guelph, Ontario.


---
"The goal of Art Therapy is to identify and be in touch with feelings, explore unconscious material, release energy, gain insight, solve problems, and discover the intuitive and spiritual dimensions of the self."- Natalie Rogers

In addition to being an artist, Jessie is a practicing art therapist with several years of experience. She has recently completed her training (Toronto Art Therapy Institute: masters equivalency diploma), with a focus on different modalities of art therapy when applied in a First Nations context. Echoing her own journey, Jessie is learning how to bring forth the healing potential of art through the lens of identity and culture for her clients. Jessie's therapeutic technique draws from a variety of classical and contemporary modalities, including art as therapy, client-centered, and existentialist perspectives.

Please contact Jessie for more information.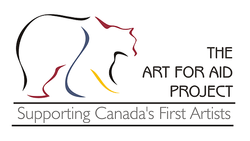 A portion of Jessie Buchanan's artwork sales will go towards sending art supplies to First Nations youth in isolated communities in Canada through Art for Aid. Jessie is very excited about this partnership with project Art For Aid. For more information please see their website.
http://www.artforaid.ca
---