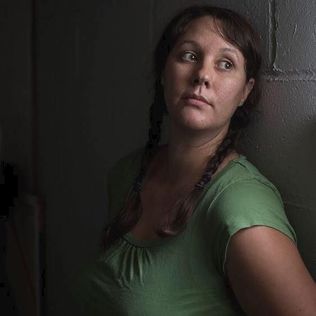 Jessie is interested in creating work that celebrates Indigenous tradition(s) and her lived experience as a woman in the modern world. Jessie is fortunate to have found a traditional community to guide her spiritual journey and elders who have helped her embrace her indigenous ancestry. Jessie graduated with a Bachelor of Fine Arts (Hons.) degree from Algoma University in 2010. Jessie is a member of the Aamjiwnaang First Nation and lives in Guelph, Ontario.


In addition to being an artist, Jessie is a professional art therapist with several years of experience. She has recently completed her training (Toronto Art Therapy Institute: Masters equivalency diploma), with a focus on different modalities of art therapy when applied in a First Nations context. Jessie's therapeutic technique draws from a variety of classical and contemporary modalities, including art as therapy, client-centered, and existentialist perspectives.
A portion of Jessie Buchanan's artwork sales will go towards sending art supplies to First Nations youth in isolated communities in Canada through Art for Aid. Jessie is very excited about this partnership with project Art For Aid. For more information please see their website.
http://www.artforaid.ca